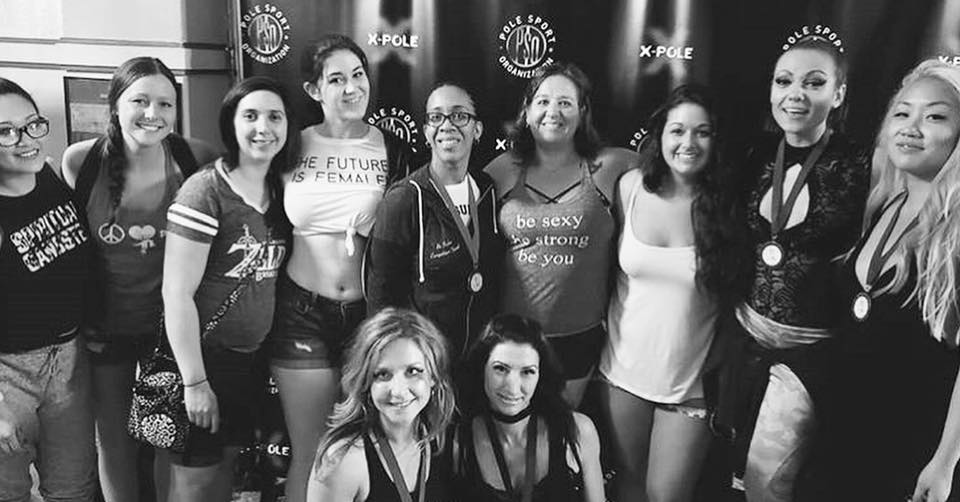 If you know anything about us here at Be Fitness, you know that we love to help people step out of their comfort zones. This year we guided fourteen of our students and instructors through their first pole competition. Everyone traveled to Chicago, IL to perform with over 200 competitors in a weekend-long competition held by Pole Sport Organization (PSO). This was the first time that our studio traveled and competed as a team to an event like this. We spent months preparing together for this competition in various workshops, practices, and meetings.
This idea all started in May 2017 when one of our instructors competed on her own in this same competition. The experience was so life-changing that she wanted everyone at the studio to go through the same experience. Another instructor, Brittany Hansel, had previously competed in PSO in another city. This past year Brittany became Be Fitness' PSO Unicorn. PSO Unicorns are studio ambassadors that know the ins and outs of PSO. Together with the studio manager, Brittany created the first Be Fitness Competition Program.
We took 7 instructors and 7 students to this competition, most of them participating in our competition program. Our program originally consisted of 10 bi-weekly workshops helping to perfect the student's routine focusing on the different elements that the judges critique including tricks, stage presence, and musicality. We've since updated the program to consist of 12 weekly workshops to help students choreograph their routine from start to finish.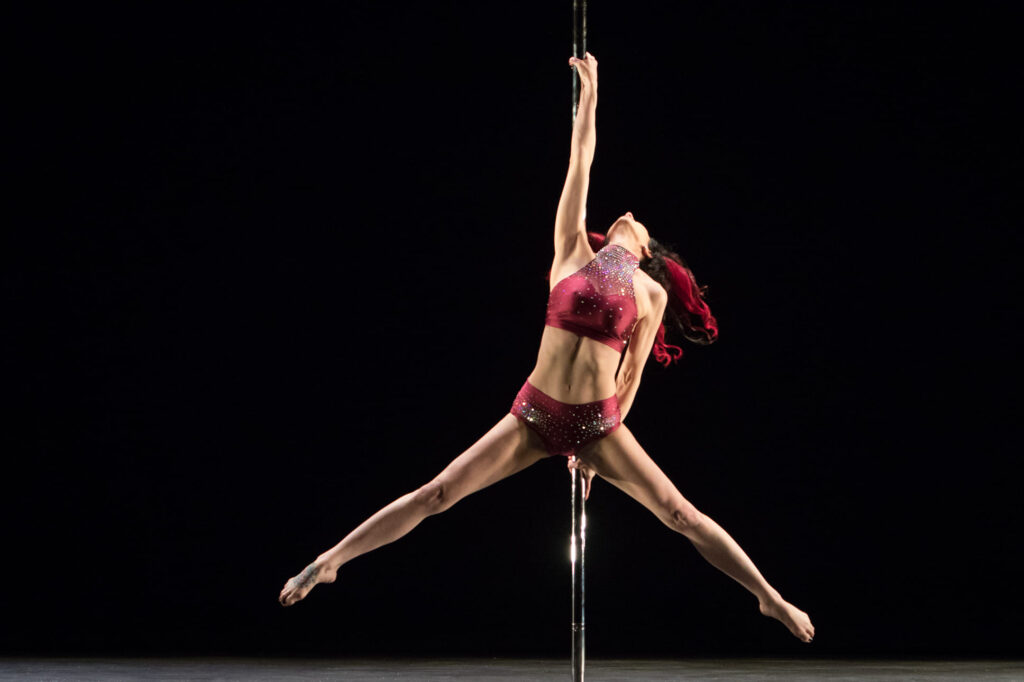 The program not only helped everyone work on their choreography and tricks, but also served as emotional support. We became a family in the process. There were nights that we stayed for hours after class talking about our fears and also the excitement. There's something about going through a process like this that makes you really look at your life as a whole. You change as a person when you step out of your comfort zone and walk head on into your fears; but knowing that you have a whole team of women who have your back and are holding your hand through the process makes it so much easier. And in the end you come out so much stronger individually and as a family.
Erin, one of our instructors, competed in Entertainment Level 3 Senior and she felt that love and support from the team. "It's hard for me to verbalize my competition experience because it was somewhat of an emotional roller coaster. During the preparation phase, I often found myself wondering, 'What did I get myself into?' as I was stepping way beyond my comfort zone. The Be Fitness competition training program, however, provided a great foundation and gave me the courage to step on stage in Chicago. I'm glad I competed because it was an amazing experience that helped me gain confidence in my ability to confront my fears. I treasure the time spent with my Be Fitness family before, during, and after competition. The amount of support was awesome and I think we all would agree that we bonded and grew closer as a result of the experience."
One of our newer pole instructors and adult ballet teacher, Tori, won third place in Entertainment Level 2 Junior. She says, "Participating in the competition was very rewarding, not only in the result but also in the process. Everyone that participated in the competition program was so supportive and encouraging. We all had different strengths and specialties that we were more than willing to share. Even though we all competed individually, we were truly a team. Knowing that we were all there together made the nerves that come with competing almost nonexistent. I loved it and I would definitely do it again."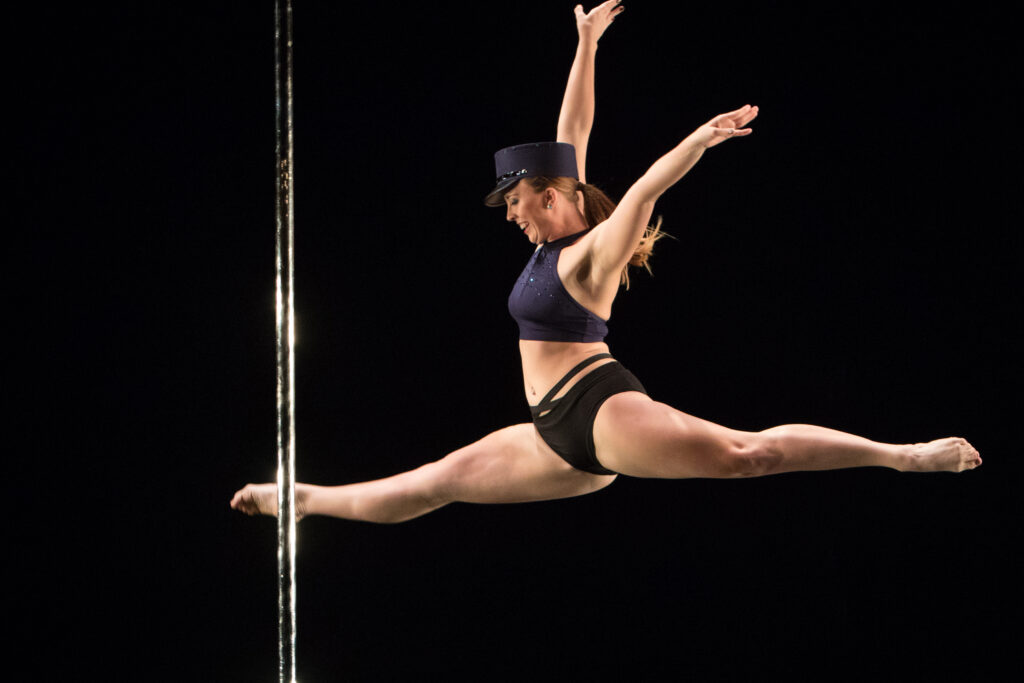 Many of our students who competed had previously performed in our showcases. We hold these showcases a few times a year for both the pole and aerial departments. Performing on stage in Chicago, however, was a completely different atmosphere. "I've performed many times and said I'd never compete, but then all my pole sisters were joining the competition program. I knew I could do it with their support", says long-time pole student Stacy, who won the gold medal in her Championship Level 3 Senior division. "Taking 1st place in my first competition was a life-changing experience. I never would have done it without the coaching and support of the staff at Be Fitness."
Overall, what we all gained most from the experience was the confidence it brought, no matter how you ranked amongst your competitors. It takes real courage to get out there on stage and be vulnerable in front of hundreds of strangers. Pole and aerial instructor Rachael believes that "although competing is fun, the best part is the self-confidence boost afterwards. Regardless of where you rank among competitors, you really feel that you did something fantastic and you feel pride in your steps to get to where you are today."
We really believe that that experience changes your life and you will carry that with you forever. Pole student Jessica, who won first place in her Dramatic Level 1 Senior division, says,"Everything I learned at Be Fitness led up to competing. I've been going to Be Fitness for four years. When I first started, I had never worked out in my life. I was out of shape, painfully weak, and very lazy. And through my instructors' inspiration, patience, and attention to help me grow as a dancer, I finally was able to build the courage to compete in PSO and win first place. The experience was immensely rewarding and validating. I am so thankful for everything Be Fitness has given me– Strength, grace, memories, and an amazing pole family."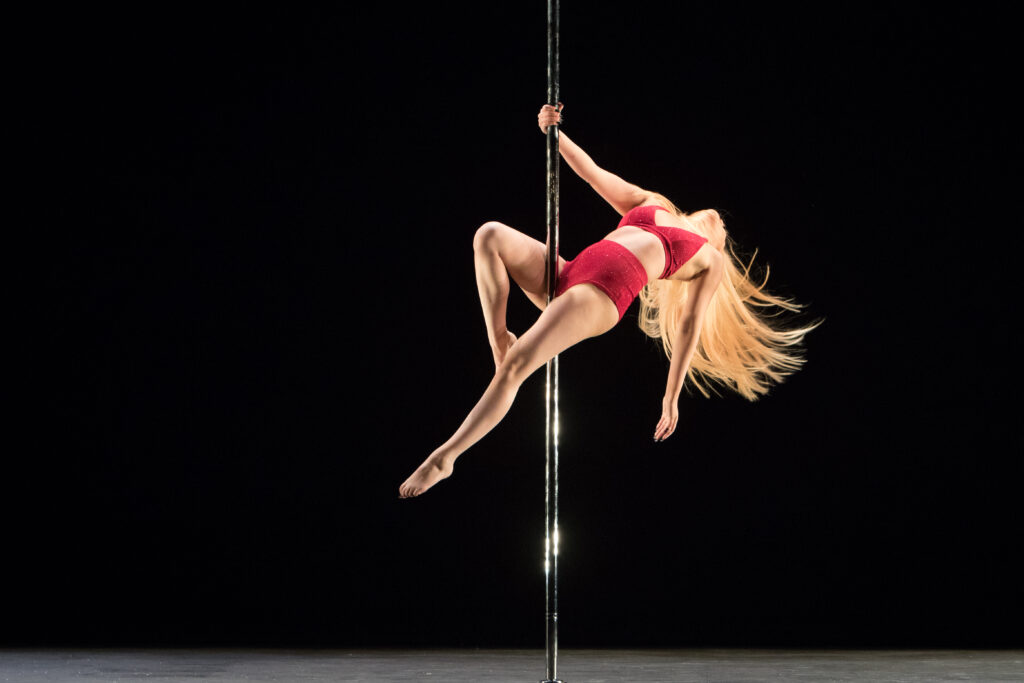 Pole Sport Organization holds competitions throughout the US with two competitions held in Chicago (one in December and one in May). These competitions are open to all skill levels, from beginner to advanced. You can perform in different categories including championship, exotic, dramatic, and entertainment. There are also various age and level categories so that competitions remain fair to everyone.
Our next competition program starts August 26th, with open house sessions in July and August to answer any questions you might have about competing and the program itself. Like our pole student and competitor Colleen says, "We 100% want to do it all over and compete again!"
For more information on Pole Sport Organization, visit www.PoleSportOrg.com . For more information about the Be Fitness Competition Program, visit our program here . All photos provided by Alloy Images.