Virtual classes are ideal if you aren't ready yet to come back to the studio, don't have time to come into the studio, or when the classes are full. We offer virtual classes for almost all of our pole and aerial classes and also for Pilates mat. The virtual classes are filmed in the studio during our regular classes so it will feel as if you are in the studio with the rest of the class. The instructor will have a camera set up for you to watch instruction and demos.
Please keep in mind that the regular class is still going on so the instructor may not be in the camera view the entire time. The instructor will be available for questions and feedback when necessary, but we cannot guarantee the same level of support that you would receive in studio. You are welcome to have your camera on or off, whatever is more comfortable for you, but please be sure to mute your microphone when you are not talking directly with the instructor. This will help prevent any feedback noise for the rest of the clients.
All virtual classes are done at your own preferred location. Clients are responsible for their own equipment and setup. Please make sure that you have the appropriate equipment available when doing virtual classes.
Classes will be held over zoom and links will be sent via email 30 minutes before class time. Clients must register an hour before class time to receive the link to the class. If you are new to the studio, we will contact you prior to class time to go over set up and confirm your spot.
Virtual Pricing
Single Class
Virtual Pricing
10 Class Package
**All class packages expire within 90 days of purchase. Virtual class packages are valid only towards virtual classes and cannot be used towards in studio classes. All packages and memberships are non-refundable.
Virtual Class Instructions
REGISTRATION
To register for class on the desktop version of MindBody, first go to the VIRTUAL tab located in the top menu bar. This will take you to the Virtual Class Schedule. 
On the MindBody APP, the virtual classes and the in studio classes are listed on the same screen. All virtual classes will say "VIRTUAL" in the class name and will have the live stream symbol 
 next to it.
To register for the class, click on the "Sign Up Now" or "BOOK" button and register just like you would for an in studio class. Make sure that you are signing up for the correct class. The virtual classes have specific links to the classes. You will receive the link for class one hour before class time. If you sign up within an hour of class time, please call the studio and we will send you the link. Please make sure to arrive to class on time. If you lose the link for class, please contact us immediately and we can resend it. 
All virtual classes will be held via Zoom. We will email the links and the passcode to enter for those who are registered for class. You must register for class an hour before the start time in order to receive the link to class. We cannot guarantee that you will receive a link to class if you register for class late. You are welcome to keep your video on or off depending on your comfort level. Please make sure mute your microphone when you are not speaking to limit any feedback or background noise for other clients who may be in the class. 
All virtual classes must be pre-paid when registering for the class. If you have a current package or membership you can use these passes towards the virtual classes if you wish. MindBody will default to a pricing option if there is one available. If you would prefer to pay with a drop in instead, please contact us and we will update your account.
PLEASE NOTE: We cannot guarantee space in class if you register for a virtual class by mistake when you would prefer to attend an in studio class. Please be very careful reading the class names when registering for class.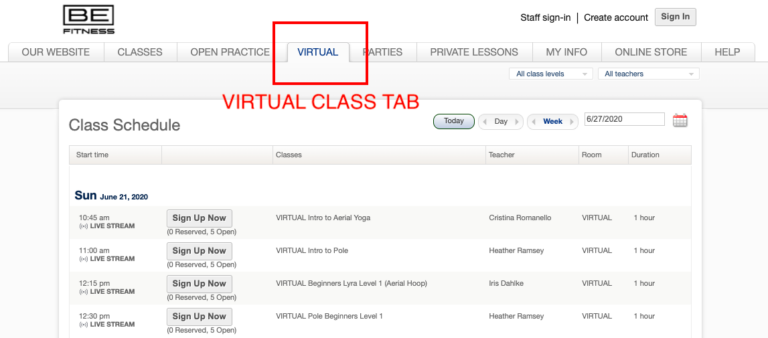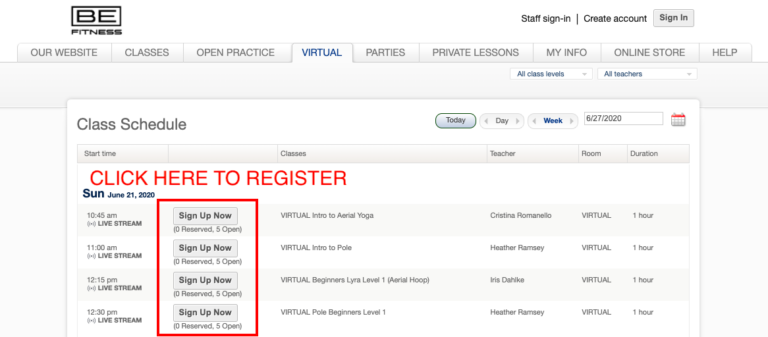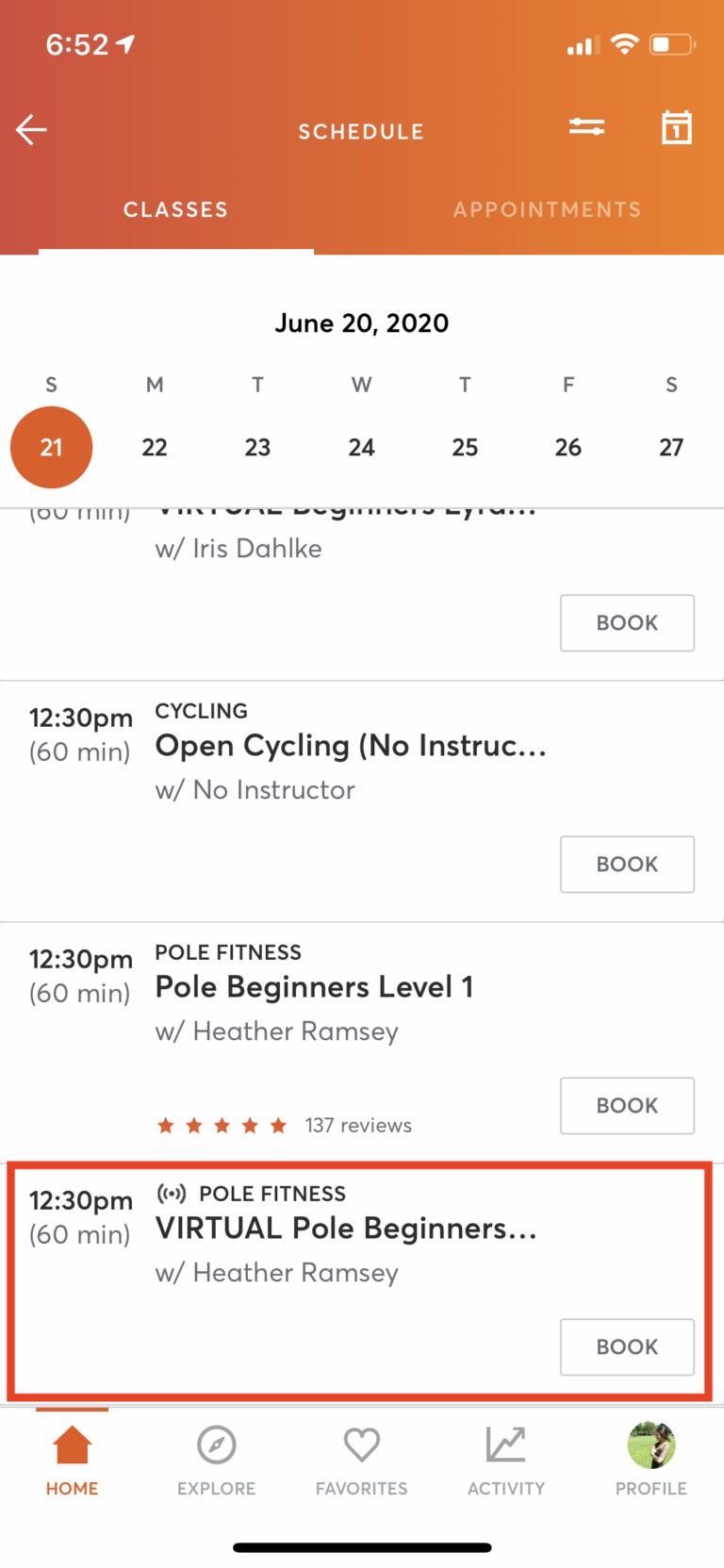 If you have any issues registering or accessing your live stream classes, please contact us via email at [email protected] or by phone at (216) 227-9710.